How to Create the Perfect Garage Apartment Combo
A Prefab Garage with Apartment Space in NY
You need space for the in laws when they come for a visit and extra quarter for when other guests come for a weekend visit. We love to give guests a private space so we can enjoy guests while still having our own private space as well.
In addition, you have stuff crowding the garage attached to the house and need to clear out space so you can live a less crowded life. Other stuff sits outside and needs a home and the backyard shed is crowded and in need of organization.
You finally settled on getting a
prefab garage
for storage, but did you think about buying a
detached garage
that has space for an apartment in the attic area. Learn how to prepare for the Perfect Garage Apartment combination and get help finding ideas on getting this done. So, where do we begin preparing for a Garage Apartment combo?
1. Figure Out Your Needs in a Garage Apartment
First, think about what you are trying to accomplish.
Do you need space for one or two cars? Or three or four?
How much extra space you need.
Should there be a space for tools and storing lawn and garden equipment besides the bays for cars? Or should you add another bay for that stuff?
You could even create a deeper garage with space for a vehicle in the Garage Apartment, and then extra depth behind the vehicle for other stuff.
Then you should also consider how much living space you want. Should it be an apartment contained in the attic of the garage? Or do you want to it be part of the first floor for a kitchen and dining area and then the attic/loft of the garage for living space? All of this will determine the size of the
Garage Apartment kit
you will need.
This 24x36 Garage built in Pipersville, PA has two car bays on the first floor and some finished living space on the right side. Then the attic area also provides space for bedrooms and a bathroom.
So, your first step is to consider how much space you need for your GARAGE APARTMENT and how much you need for parking cars and other stuff.
A Garage with Apartment Space on Two Floors
2. Figure out a Floorplan for the Garage Apartment
Garages with Apartments
can be built in any number of ways. You could create a one bay garage with living space for the rest of the garage. It could be built in one or two floors. If you create a large one story car garage, you could have space for a car and living space on the same floor. Take a look at these
two stories one car garages
that could have space for storage on the first floor and a small studio apartment on the second.
Others might want the entire first floor to be for storage and cars, and then an outside entrance with a second-floor deck where they access the second-floor apartment.
To get your Garage Apartment floor plan started, take out a piece of paper and begin drawing. Try drawing to scale where 1/2 inch equals 1 ft of the garage. That way you can begin envisioning how it would all fit inside.
A typical car can fit inside a 20 ft car garage, but if you want extra space or if you have a larger vehicle, you want to make extra space for the car and if you want space for storing garden tools and other things in the Garage, then you should figure plenty of space.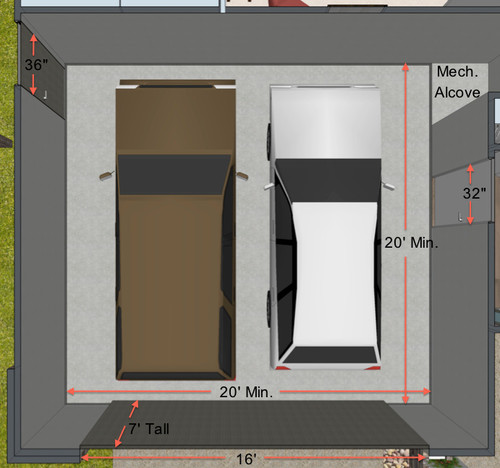 3. Find a Prefab Garage Apartment Builder
When you have some of these basics figured out, you are ready to find a builder to price out the project. Again, there are various approaches you can take. You can find a garage builder who will do the entire project from start to finish. They might be able to give you a price on a stick built garage all inclusive.
Another approach might be to find an
Amish Garage Builder in Lancaster, PA
and have them price out a Prefab Garage Apartment. With Sheds Unlimited, one of the garage builders in Lancaster, PA, you will get the garage built on your prepared concrete pad. When the prefab garage is built on the pad, then you can have the fun of doing the interior work yourself or finding subcontractors to do various parts of the Garage Apartment project.

4. Get Garage Apartment Plans and Prices
This is, of course, a very important part of the process. What will a Garage Apartment cost? And where can I get plans for a garage apartment combo?
Both of these can be taken care of easily by visiting an Amish Garage Builder in Lancaster, PA.
Sheds Unlimited
offers Free Custom Garage Quotes and even provide a set of Garage Plans with the purchase of a prefab garage. Here is how it works.
You request a quote for the garage you want
Leave a $250.00 deposit for the garage apartment plans
Sheds Unlimited creates a set of plans for your specific car garage
When you place the order for the Garage with Apartment Space, you get a credit of $250.00 towards the purchase of the garage
Yes, you are paying for the garage plans up front, but they are really included in the purchase price of the garage. You can even see the Sheds Unlimited
Prefab Car Garage Prices
to get afeel for what it might costs to install a Prefab Car Garage with an Apartment space.
5. Other Things to Consider for your Garage with Apartment Space
You want to think about garage options you want on the prefab car garage. Some popular options on the Sheds Unlimited Garages with Apartment Space are:
A Shed Dormer or A-Frame Dormer to create more livable space
Extra Windows and Doors to make for easy access
Second Floor Access via a Door and a Deck (The deck would be installed by the customer)
There are many other options such as siding types, wall heights door sizes and much more, but the ones mentioned above are the most important when it comes to
garages with apartment
space.
6. Can I get a Garage Apartment Kit?
While there are builders that offer such a package, at Sheds Unlimited we only offer
garage kits
for our basic garages. Building a garage with apartment space is not a simple matter and we've found it most effective to have our Garage Building Team come to the location and assemble the building on your site.